Key Ideas & Questions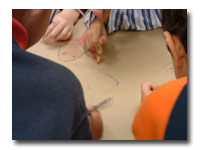 Since 1997, MLV has explored the group as a potentially powerful, yet often not fully tapped, aspect of the learning environment, and the ways in which documentation can support learning within the group. Here, we share some key ideas, questions, and challenges of this work.
However, it is important to note that all of these ideas result from an ongoing process of exploration. We expect that our ideas will change and deepen as our experience with them in U.S. contexts continues. The big and ongoing question is: What sense do we make of these ideas and how do they influence our thinking and practice? The perspectives of educators are particularly important in shaping theory and offering insights in ways that only people who are regularly in the classroom can. We invite visitors to this site to share questions, thoughts, and concerns with us.
Some Basics: What do we mean by group learning, learning groups, and documentation?

Features of Learning in Groups
Photograph by Karen Daniels, MLV Seminar Member