Teacher Education
"Working in this way [documenting individual and group learning] is harder than the traditional way. As a teacher it complicates your lives. But thirty years later, you are still passionate! You are never bored."
- Tiziana Filippini, Pedagogista, Reggio Emila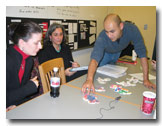 The main goal of the Making Learning Visible (MLV) teacher education partnership was to learn more about how to share the key ideas and questions of MLV with other educators, and specifically how to make documentation and group learning an enriching part of the conversation in pre-service and in-service teaching.
During the 2003- 2004 academic year, the teacher educator partners incorporated MLV ideas into their courses and shared the documentation that emerged from their classrooms. The insights, inquiries, and examples of documentation from these explorations were shared during the 2005 AERA Conference in Montreal.
The MLV teacher education group included Bobbi Rosenquest and Stephanie Cox Suarez from Wheelock College and Lisa Fiore from Lesley University. They met monthly as part of Phase III through June, 2005 and their work continues to thrive in many ways. All three teacher educators currently teach courses heavily influenced by MLV ideas about group learning and documentation. Other faculty at each institution have adapted MLV methods and structures for their own courses. Bobbi, Stephanie, and Lisa have also presented their work at teacher education conferences locally and around the country.
Supporting democracy in the classroom became the overarching theme for the group's research. After Phase III, an expanded group called the Democracy Inquiry Group (DIG) began to meet monthly to share and discuss documentation of individual and group learning. Members of the group include the Dean of Education at Wheelock, teacher educators, administrators of early childhood programs, and supervisors of city-wide professional development programs. DIG members have also published papers and presented at teacher education conferences as well as hosting MLV-related events at Wheelock and Lesley.
The MLV teacher education group gave an interactive symposium entitled Making Teaching Visible: Three Documentary Accounts of Teacher Educators as Individual and Group Learners at the 2005 American Educational Research Association in Montreal. Steve Seidel and Carol Rodgers from SUNY-Albany were respondents. Making Learning Visible through Documentation: Creating a Culture of Inquiry among Pre-Service Teachers was published in the journal, The New Educator (Cox Suarez, 2006). Stephanie recently submitted another paper about documentation as a formative assessment tool for children with special needs to the journal, Remedial and Special Education.
In the spring of 2005, we held a one-day seminar at Project Zero with 15 early childhood teacher educators from the U.S. and Canada whose work draws on Reggio-based ideas and practices. The goal of this meeting was to share common experiences and identify ideas and challenges of shared interest. We discussed two main questions:
and
Photograph by Terri Turner, former MLV Phase III Research Assistant