Report: MLV Institute '04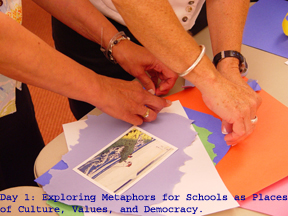 On July 18-20, 2004, 87 participants--56 teachers, 22 administrators, and 9 teacher educators gathered at Harvard with MLV faculty for the first Making Learning Visible Institute. Here, we share a brief report of this first-ever event, providing a participant and faculty profile, as well as some of the program highlights, such as the content themes, the institute's inclusion of multiple perspectives, and our experimental "Documentation Workshop," a space to explore documentation in practice.
Participant and Faculty Profile
Of these participants, 56 were teachers, 22 were administrators, and nine were teacher educators. Thirty-five people worked in early childhood, 26 in elementary, 15 at the college or adult learner level, and eight in middle or high schools. Most were from the U.S., with the two largest groups from Massachusetts and Wisconsin. Ten people came from other countries such as Singapore, India, Mexico, and Thailand. Sixty per cent of the participants attended with at least one other person--a good harbinger for collaboration after the institute. About 85% said they were very or somewhat familiar with the Reggio schools in a pre-institute questionnaire.
The Institute faculty involved nine collaborating teachers from the MLV research seminar, MLV staff, and four volunteers including a local high school student, an HGSE doctoral candidate, a teacher educator from California, and an elementary school teacher from Atlanta.
Content Themes
Each day was organized around a guiding theme linked to one of our essential questions: Schools as Places of Culture, Values, and Democracy; Understanding and Nurturing Individual and Group Learning; and Supporting Learning in Groups through Documentation. Together, faculty and attendees explored these themes, through a daily combination of plenary sessions and small group time. Selected readings rounded out the opportunities to gain insights into MLV research, ideas, and practices (which are drawn from Reggio Emilia and from our current U.S. experience). . Finally, as another resource for people to draw on as they apply ideas about group learning and documentation in their own settings, the institute offered so-called "soft" tools. These included compilations of ideas and suggestions, such as documentation tips about different media and suggestions for using visual essays to launch a conversation about group learning.
Top of Page
Multiple Perspectives
Throughout the Institute, participants were able to exchange experiences, questions, and ideas from their various perspectives. In addition, our third day's plenary session featured a panel discussion, with MLV staff and collaborating teachers sharing different perspectives of how documentation can support the development of learning groups and deepen their learning. The plenary concluded with a general discussion with and amongst participants. This panel proved to be a particularly important aspect of the institute.
Top of Page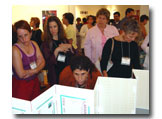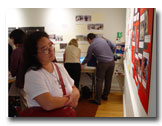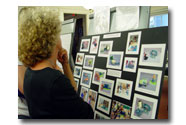 Documentation Workshop: A Space to Explore Documentation in Practice
We celebrated the spirit of group learning with a documentation workshop space—a place where faculty and participants could bring their own pieces of documentation (however they defined and understood it) to share in a part-workshop, part-gallery space. The exchange of ideas was energetic, the learning opportunities rich. The contributions ranged from a piece of student artwork with an accompanying video and transcript of a student-teacher conversation to a collection of six panels with photos, text, blueprints, and other artifacts describing how a group of New York City students and their teacher developed and submitted a design for a memorial park for children in response to the 9/11 attacks.
Top of Page
To all of our faculty members, support staff, and dedicated participants, we are deeply grateful. We look forward to building on the successes of 2004 with subsequent institutes.
Would you like to receive notification of our upcoming institute?
Contact us at info@pz.harvard.edu
(Subject: MLV)
Top of Page
Photographs by Melissa Rivard, MLV Documentation Specialist